GoRail educates community leaders across the country about the public benefits of freight rail investments, mobilizing them in support of an even stronger rail network. We believe every ton of freight moved by rail strengthens the economy, creates jobs, mitigates pollution and saves taxpayers money.
Rail Advocates
Featured GoRail Supporters
GoRail's rail advocates are community leaders from every region of the country who recognize that rail policy decisions made in Washington, D.C. have real impacts back home. Meet them and learn more about the ways freight rail has benefited their communities.
Benefiting Communities
Across the Country
The U.S. is connected by the best freight rail system in the world. Spanning nearly 140,000 miles, the network safely delivers economic growth, supports job creation, and offers unparalleled environmental benefits like cleaner air and reduced highway gridlock.
Rail at Work
Latest News & Updates
Infrastructure
Paso Robles, CA — Paso Robles City Councilman Fred Strong has worn many hats across decades of service in his community. From co-founding Paso Robles'…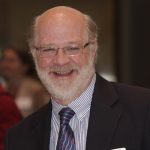 Executive Director, National Center for Intermodal Transportation Research, University of Denver
---
Denver, Colorado
"In my extensive research on transportation, workforce development and safety, I have observed freight railroads' commitment to innovative safety programs."
President, Rapid City Economic Development Partnership
---
Rapid City, South Dakota
"Rapid City is the hub of a regional economy stretching more than 200 miles and freight rail is one of our major transportation arteries, hauling the best of the Black Hills to feed the world, as well as meet its demands for power."
President & CEO, Jackson County Chamber of Commerce; Executive Director, Experience Jackson
---
Jackson, Michigan
"The Jackson County Chamber of Commerce knows intimately the important link between rail and manufacturing."